A Multi-Faceted Technology Platform for Solutions in Manufacturing and Business Operations.
Requirements
Business Need
DataSar IoT Platform, enables customers to get (automated, intelligent and highly secure) connectivity from the edge to the cloud in manufacturing, service, maintenance, asset  monitoring, supply chain, inventory, and logistics management.
DataSar offer a comprehensive, basic IIoT scheme to connect to your equipment, collect data, begin data/alert/notification workflows, deliver role-based dashboards, and more. DataSar monitors, reports, sends and exchanges data on a collection of interconnected physical device in operations where devices use sensors to measure specific aspects of the world around them, including location, temperature, humidity, light levels, movement, handling, speed of movement and other environmental factors. IoT devices come in many form factors including RFID chips, smart device and mobile sensors.
DataSar platform differentiation is to connects with multiple protocols and hence has ability to connect wide variety of Instruments, Sensors and Industrial automation products. It delivers IIOT solutions inside firewall (Edge and Fog Solutions) as well as on Cloud. Due to its architecture (inside firewall as well as on Cloud solutions) provides more security as compared to pure open platforms like AWS IoT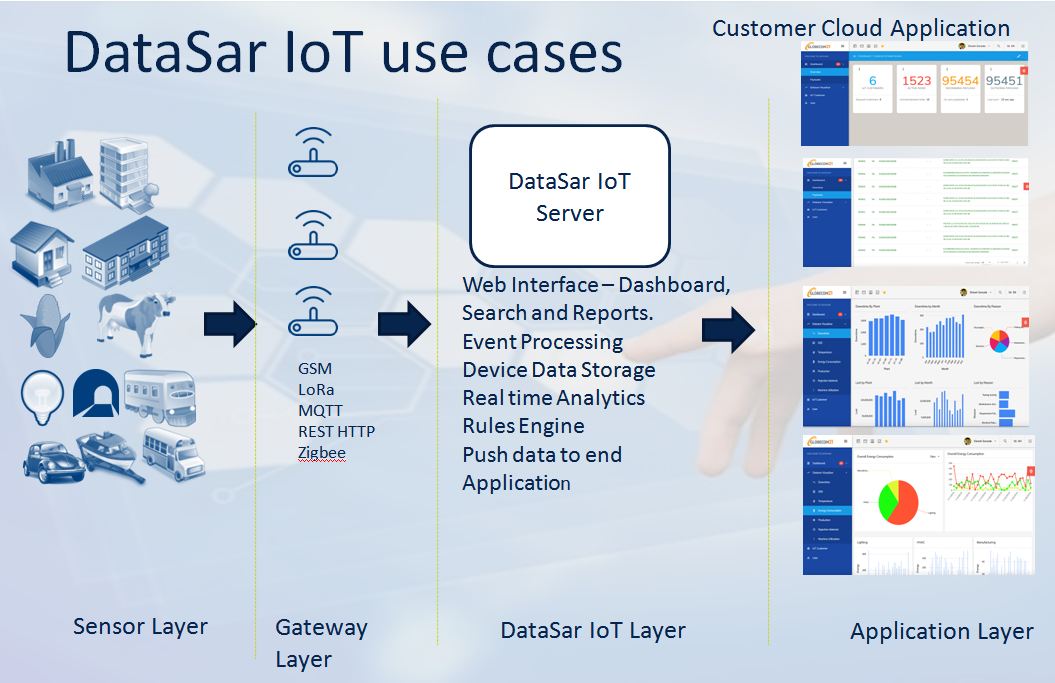 Generating set maintenance is based on time schedule instead of pre-detection of possible failures
Extreme Use Case conditions on field can not be monitored to refute warranty claims
Increased Down time for generating as there is no mechanism for early detection & indications of possible failures
Less efficient operation (possibility of additional DG Sets)
OPEX expenses are difficult to track for end customer ( Diesel Theft ?)
Requirement of dedicated onsite person to ensure Security of remote location DG set
Payload Overview
A IoT dashboard allows you to track IoT Devices and payload communication overview.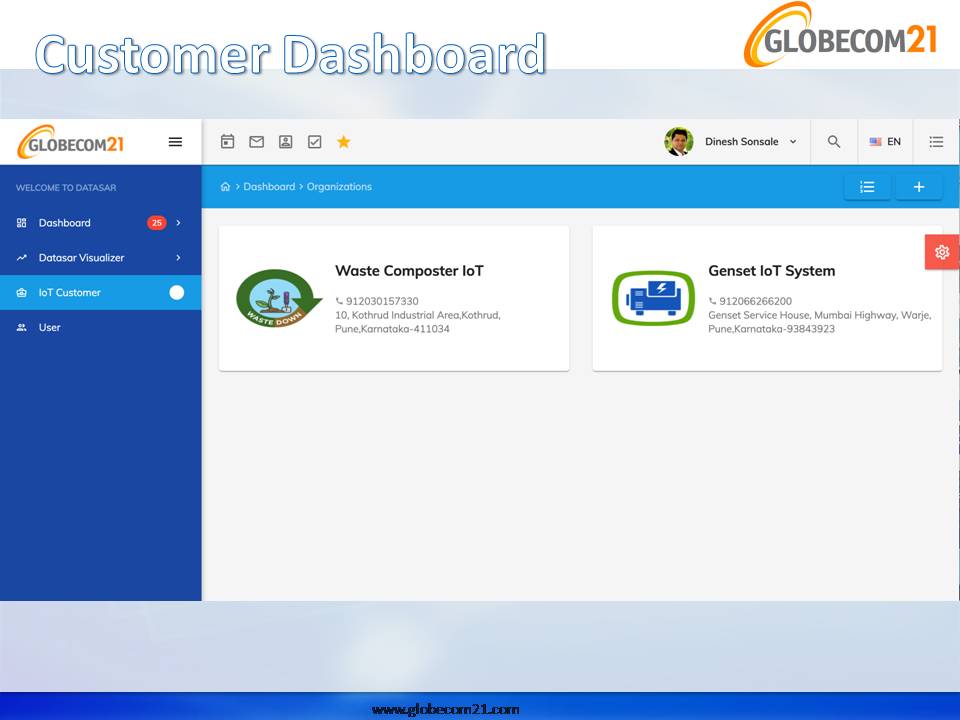 Customer Dashboard
A customer dashboard allows you to track how your customers IoT Devices Performance and health check.
Machine Downtime
Consultants believe that 80% of industrial facilities are unable to accurately estimate their downtime. A common estimate is that factories lose anywhere from 5% to 20% of their productivity due to downtime
OEE
OEE (Overall Equipment Effectiveness) is the gold standard for measuring manufacturing productivity.
Simply put – it identifies the percentage of manufacturing time that is truly productive.
Temperature Dashboard
Versatile sensor dashboard to display the operating parameters of equipment and environment
Energy Conumption Dashboard
Material Rejection Dashboard
Machine Utilization
Monitor
Monitoring vital parameters of asset
Security
Ensure reliability and Security. The data is sent in the encrypted format, which is then transformed and forwarded apps.
Address issue
iCAM hardware and software workflow automatically closes the issue.
Reports
Generate Management Information Reports for OEM and Service Provider
Web Interface
Provide personalized Dashboard, Search and Reports
Raise Alarms
Raise alartm based on prognosis analysis